DESTINATION WEDDING IN ITALY: THIS IS WHY YOU SHOULD CONSIDER IT
Is there a better reason to celebrate than love?
Can you imagine a more romantic place to host your destination wedding rather than Italy?
Whether you are considering to plan a Lake Como wedding, a wedding in Venice, a beach wedding in Italy or a countryside vineyard wedding in Tuscany, there are plenty of reasons to host your destination wedding in Italy, and we are excited to show you why. 
The idea of an "Italian Wedding" evokes images of romantic backdrops, countryside banquets, free flowing local wine, delicious food, stylish lights, and a heartwarming setting.
We are excited to tell you that these stereotypes are true!
However, if not done properly, planning a destination wedding in Italy can be daunting and stressful. Especially when you are not familiar with the local language and local customs, the results can be tragic and disappointing.
This is why hiring a wedding planner Italy is a great idea to tie the knot with a complete peace of mind.
Working with The Italian Planners is a guarantee to see your dream for your destination wedding in Italy come to life, either it is a luxury wedding, an intimate celebration,  small wedding or an elopement in Italy.
DESTINATION WEDDING IN ITALY
Many foreign couples who plan their destination wedding in Italy also tend to set up either a weekend or full week of events for their guests. These events typically include Italian-style welcome parties, glamourous rehearsal dinners, and relaxed after-wedding brunches that guarantee a week filled with love and laughter.
We bet you have noticed this growing trend on Pinterest, right?
Apart from the spectacular locations that Italy offers, one of the exciting reasons that makes Italy on of the best places for a destination wedding is the natural beauty, warm hospitality, mild weather and affordability.
Many other countries will charge a premium for the quality sources and ingredients that Italy provides to all of its guests as a standard…but don't get it wrong, food quality is just one of the advantage of having an Italian destination wedding.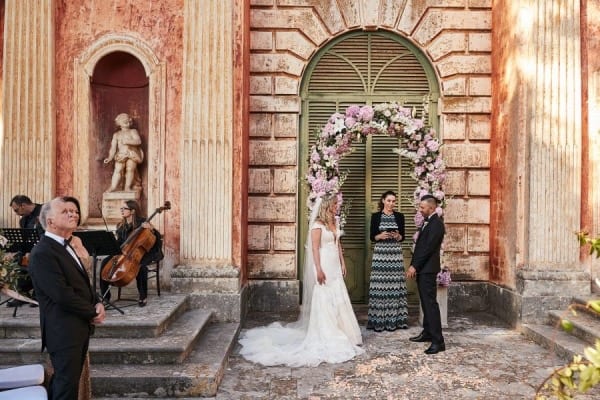 SMALL WEDDING IN ITALY
Small weddings are having their moment right now!
In fact, nothing beats an intimate wedding venue in Italy to host your love celebration in a beautiful setting, surrounded only by the people you love the most.
Additionally, when you plan a small wedding you can organize different moments within the same venue, and surprise your guests all the way though your big day.
What about a themed destination wedding or a celebration that incorporate territorial elements and traditions?
Many couples who chose to get married in Italy are pairing old wedding traditions with a fusion of modern influences and local trends. The traditional concept of weddings, with long seated meals and hundreds of guests it is slowing disappearing.
It's become increasingly popular to get inspired by local cultures and traditions for the wedding aesthetics.
Many of our customers choose fruits and plants over flowers to create a real "Italian Wedding".
For instance, lemons decorations are perfect if you plan to get married on the Amalfi coast, olive branches fit well a a boho-country style wedding table in Tuscany and if you consider to organize a real Apulian wedding you can add succulents and Opuntia to surprise your guests.
We love setting up the decor, especially when they are unique to the destinations and specially tailored to express your creative personality as individual and as a couple (and this is so challenging and fun to work on together).
DO YOU NEED MORE INSPIRATION?
BE SURE TO CHECK OUT THE ITALIAN PLANNER'S TOP COUNTRYSIDE, LAKE, AND SEASIDE DESTINATIONS AS WELL!
From finding breathtaking venues, navigating local traditions, and handling all the paperwork, The Italian Planners will do what we do best by planning everything according to your needs to make sure your destination wedding in Italy and your big day lasts in your heart forever.
Hire a destination wedding planner for Italy and enjoy every step of your wedding planning journey.
ELOPE IN ITALY
Months of planning or not your cup of tea?
Follow the 2021 trend: host an exciting elopement in Italy and immediately begin your honeymoon!
Kick-off your European tour by making a commitment to love during an intimate ceremony that is as special as your relationship.
This can include just you and your partner, your best friends, or simply with your parents via video chat, The Italian Planners will work to provide you with as much (or as little) celebration as you desire.
For elopement in Italy and intimate weddings we can provide custom elopement packages that include lodging selections in the most sought-after destinations in Italy.
So whether you are looking for a small Italian wedding venue for your destination wedding, or just a panoramic place to elope in Italy  or renew your vow in a romantic ceremony, your journey starts here!
ITALIAN WEDDING VENUES
Let our team of Italian Wedding Planners inspire you by creating a jaw dropping experience that will truly celebrate your love. Through the years we have scouted for unique locations to get married in Italy, places to elope and both civil and symbolic ceremony venues in Italy.
If you haven't decided a place for your destination wedding in Italy, why not read our blog and get inspired by some of the most famous locations for a wedding in Italy? These regions to get married in Italy are bursting with authentic Italian wedding venues!
Either you decide to elope in Italy, in a beautiful palazzo in Milan, in Verona or in Venice, our team of Italian wedding planners will work with you to scout the perfect venue for your celebration. For the most exclusive destination wedding in Italy we suggest luxurious villas by the lake on Lake Como, vineyard wedding in Tuscany, a panoramic hotel in Florence, a beach wedding on the Amalfi Coast.
Get inspired by the most incredible wedding venues in Italy and discover the most special wedding destination.
READY TO GET PLANNING?
We have many more venues on files!
Get in touch today by using our online form to get recommendations.

INQUIRE BY CLICKING HERE AND RECEIVE YOUR FREE CONSULTATION FROM ONE OF OUR LUXURY DESTINATION WEDDING PLANNERS FOR ITALY.