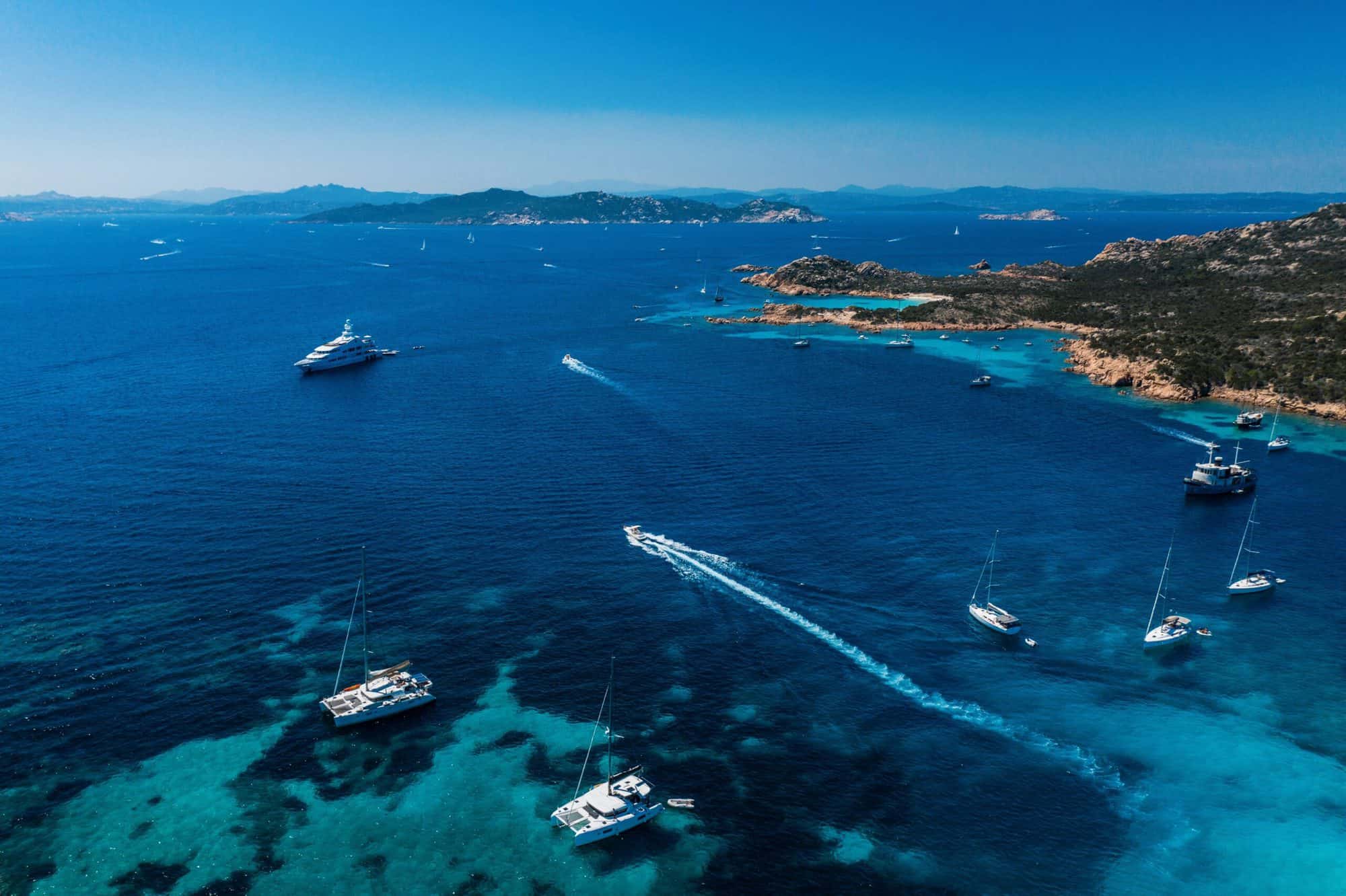 16 Nov

Seaside Top 3 – Amazing Destination Wedding in Italy for 2023
With 7,600 kilometers (4,723 miles) of stunning coastline, there is no shortage of seaside venues for your destination wedding in Italy. The Italian coastline is sexy, colorful, luxurious, vibrant, and romantic. Just like you and your partner! Imagine saying your vows to your loved one as the soft waves of the Mediterranean kiss the shoreline, and the setting sun surrounds your guest with love and happiness. Here, our team of luxury destination wedding planners has compiled a list of the Top 3 amazing venues for your destination wedding in Italy.
Looking to explore even more? Be sure to check out The Italian Planner's top Countryside, Lake, and City destinations as well!
THE #1 BEST SEASIDE DESTINATION WEDDING IN ITALY – Apulia (Puglia)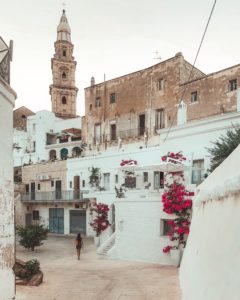 Nicknamed the heel of Italy's "boot", the region of Apulia is known throughout Italy for four distinct characteristics: amazing food, historic culture, gorgeous architecture, and its sublime coastline.
If you or your partner identifies with being a "foodie", then look no further than this region, as it is well known throughout Europe for having the most delicious and fresh food in Italy. And while you are enjoying all that delicious Italian cuisine, you can gaze onward towards Apulia's dramatic coastline and untouched natural beauty.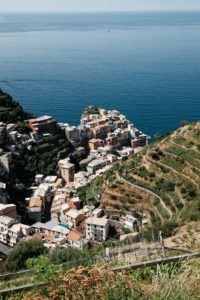 Here you'll find entire villages built on the side of cliffs, making for the perfect scenery to your destination wedding in Italy.  Apulia is also well known for having some of the best hospitality services in Europe, which has made the region increasingly popular for luxury weddings in Italy in recent years.
            If you are looking for an authentic and genuine Italian experience that has not been tainted by tourism, then Apulia is the right region for you.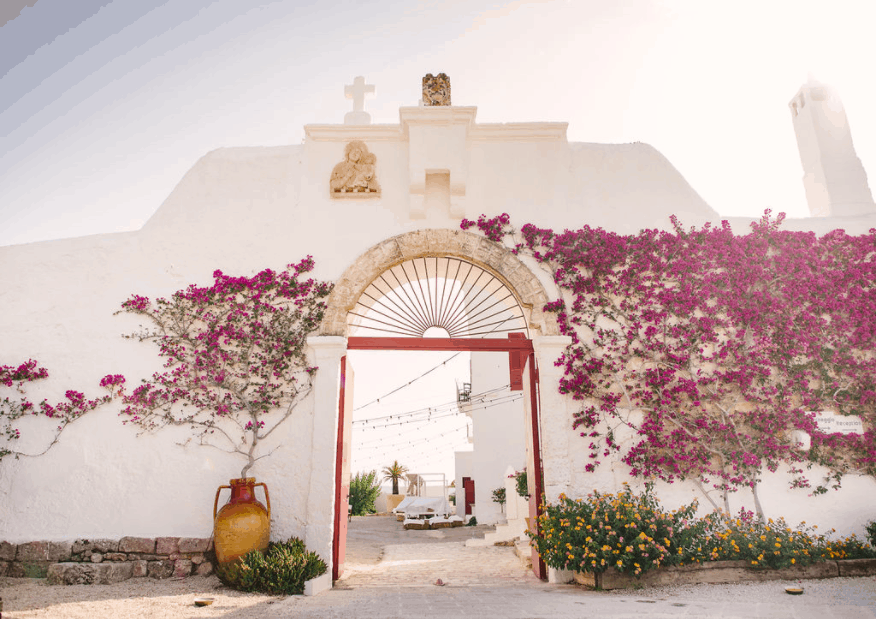 Sitting as a 16th-century luxury seaside resort, planning an Italian wedding at the seductive Masseria Torre Coccaro is a genuine and delicious experience. Here, you'll have the best of two different worlds as this villa looks over the magical Mediterranean Sea while also sitting deep within the Apulia countryside. Remember how we mentioned this region is considered to have the best food in Italy, well consider this venue to be the peak of fresh Italian cuisine.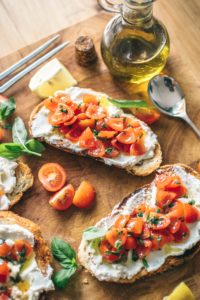 Each day the surrounding olive orchids are hand-picked and cold-pressed into olive oil, cheese is gathered from the many surrounding farms, and porcini mushrooms are gathered in the wild and all of it is brought straight to your plate. Our mouths are watering just thinking about it!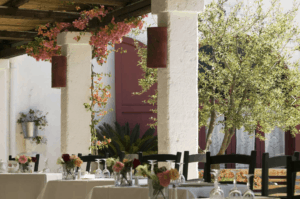 Once you are full of delicious Italian cuisine, you and your guests are invited to take part in the many available activities from cooking classes, horseback riding, mountain biking, spa relaxing, pool and seaside swimming, or golfing. This 16th-century defense tower turned 5-star elegant resort is the perfect seaside Italian destination wedding venue.
THE #2 BEST Seaside DESTINATION WEDDING IN ITALY – Amalfi Coast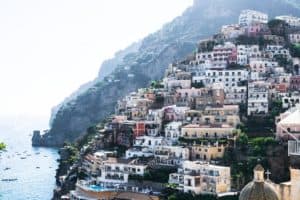 Along this breathtaking and iconic coastline, you'll find trendy resorts, ancient ruins, and enchanting island getaways. The southern Italian charm is strong here too, as the overall vibe of the area is quite friendly and slow-paced. Along the coast, you'll find some of Italy's most gorgeous resort towns such as Sorrento, Positano, and Amalfi.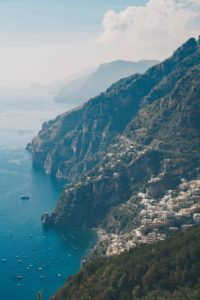 Here, the coastline is dramatic with intense cliffs right along the shoreline, and secret beaches found within the many hidden coves. You and your guests will love relaxing along the Mediterranean by day and shopping at the many unique boutique shops by night. Amalfi Coast weddings are special and magical, making the area very popular for couples. With so many Amalfi Coast wedding planners and venues, we will be sure to custom tailor your perfect wedding that meets your every need.
Perched upon the cliffside, the Villa Treville will serve as your own personal luxurious oasis during your stay along the Amalfi Coast. This 5-star resort is situated in the town of Positano, which is world-famous for its multi-colored homes that are built upon the cliffside.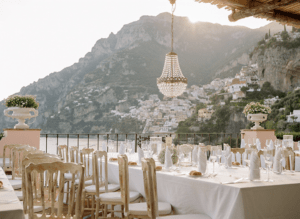 Positano is also known for having an overall glamourous vibe with its many fashionable boutiques, electric nightlife, and sophisticated cafes. Yet, a return to Villa Treville will feel like a return to tranquility. Our luxury destination wedding planners recommend that you host your Italian destination wedding here because it is one of the most exclusive wedding venues on the Amalfi Coast.
THE #3 BEST Seaside DESTINATION WEDDING IN ITALY – Sardinia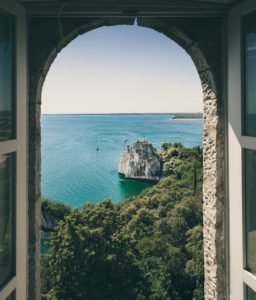 Just off the west coast of Italy, you'll find the desert paradise of Sardinia. This island has long captivated its visitors with its crystal-clear water and wild landscapes. Here you'll fall in love with the dazzling beaching, exciting mountains, and lovely beach towns. Imagine spending a day sailing, surrounded by the shimmer and sparkle of the Mediterranean, and then spending the evening with a romantic stroll through an ancient beach town, wine in hand of course. There are few better places to plan your destination wedding in Italy.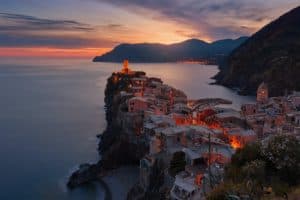 Part of what makes this island such an interesting destination is the unique features that shape the island. Sardinia has its own language, traditions, and cuisine that separate it from the rest of Italy. In fact, Sardinia is considered to be a geographic "blue zone" as the island has more citizens aged over 100 than most places on the planet! Locals will tell you that this is obviously because of the fresh food, and high quality of life that exists in Sardinia. Just look around, and you'll see nothing but smiling faces all around this wild landscape. For our adventurous couples looking to plan a unique wedding in Italy, Sardinia will check all of your boxes.
Easily one of the most interesting venues in all of Italy, the Faro Spartivento is a beautiful lighthouse that has been converted into a luxurious resort. If perfect views are an important factor for you as you plan your wedding in Italy, then it is hard to beat this venue.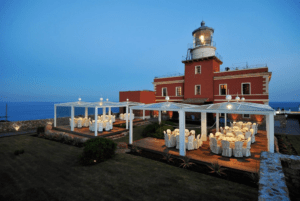 This venue offers you a unique "lighthouse experience" because of its uninterrupted 365-degree views of the surrounding Mediterranean and cliffside. Imagine swimming to the edge of an infinity pool that opens up to a romantic sunset just beyond the daring cliffs. If you are an outdoorsy couple who loves to explore, you're in luck. This venue has many trails just outside of the property that takes you down to private beach bays that are perfect for a lover's getaway.
Ready to get planning? Inquire by clicking here and receive your free consultation from one of our Italian luxury destination wedding planners.